TENA® Stretch Incontinence Brief
Super Absorbency

NOW with ConfioAir™ 100% Breathable Technologyallows humidity to evaporate to maintain skin naturalmoisture balance.

Liquid error: product form must be given a product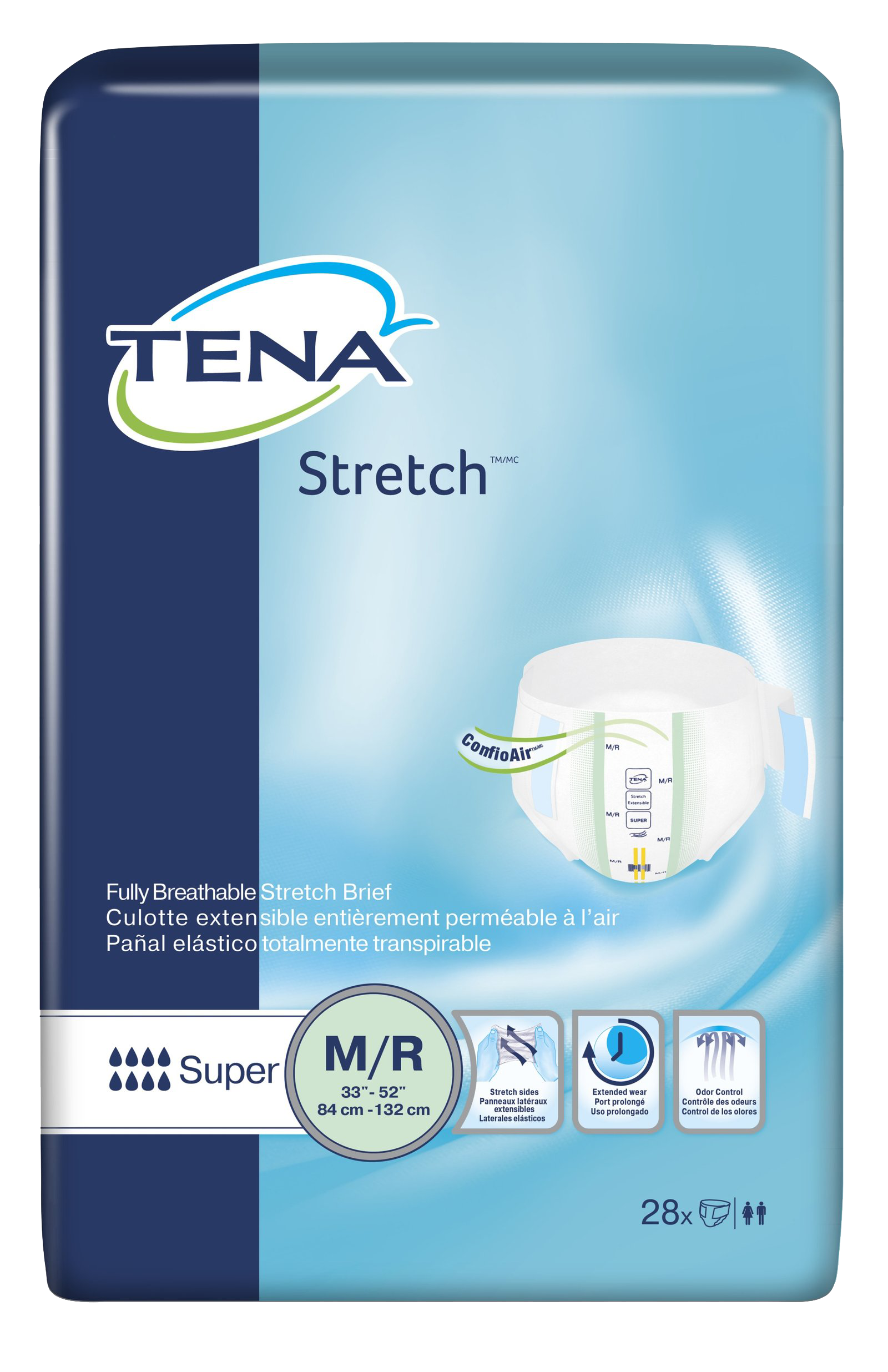 FULLY BREATHABLE STRETCH SIDES: Promotes skin health and comfort, Easier to select the right size, faster to apply, Provides secure, individualized "stay in place" fit for effective leakage control and improved comfort.

SUPER ABSORBENT POLYMERS to help reduce odour and quickly lock away liquids to help promote drier skin with more comfort and discretion.

BLUE TARGET ABSORPTION ZONE provides extra protection where needed the most to quickly lock in liquids and odour, promoting drier, healthier skin with dignity and discretion.

SOFT, NONWOVEN BACKSHEET is gentle against the skin and less noisy, providing improved comfort and greater dignity.

MOISTURE-PROOF LINING protects clothing and linen against wetness and is colour coded for fast and accurate product selection.

CURVED LEG ELASTICS provide a better fit, enhanced leakage protection and more comfort.

TENA® "SURE STAY" WIDE HOOK SYSTEM delivers unlimited, fast, secure fastenability – first time, every time.

UNIQUE PRINTED BACKSHEET WITH SCANNABLE BARCODE makes selecting the correct product easy, while barcode aids consumption tracking and inventory management.
With the right product, managing a weak bladder should be relatively simple and provide the confidence needed to get on with everyday life.

Skin conditions caused by prolonged contact with urine can be painful and persistent, causing diaper rash. Protect your skin with barrier creams. skin cleansers and moisturizers.

Why customers love Cardinal Direct!
"The Cardinal Health Canada has a very professional and knowledgeable team that, in my experience,
works together to support the health care practitioners to deliver the best possible care for their patients."
- Patricia Coutts RN
"WONDERFUL CUSTOMER SERVICE!"
"GREAT ONLINE SHOPPING EXPERIENCES"
"THE STAFF AT CARDINAL WEREVERY HELPFUL"
Cardinal Health Canada provides an expansive assortment of quality, hospital-grade products at a competitive price. With nearly 100 years of experience in distributing hospital products. Cardinal Health Canada is committed to supporting patients and to transition from hospital to home.